About Chris
Christopher M. Cevasco writes fiction inspired by history. Some of his most recent stories have appeared or are forthcoming in Nightmare Magazine, Black Static, Space and Time, and the Prime Books anthologies Shades of Blue and Gray: Ghosts of the Civil War and Zombies: Shambling Through the Ages. He is seeking representation for a recently completed novel of murder and political mayhem in Viking-ravaged England as well as for both a psychological thriller about Lady Godiva and a novel of English resistance and rebellion in the years immediately following the Norman Conquest.
Photo Muse
Places that inspire...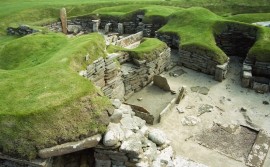 Dwellings at Skara Brae, a Neolithic settlement on Mainland, Orkney, older than both Stonehenge and the Pyramids at Giza. Photo by Christopher M. Cevasco.
© 2018 Christopher M. Cevasco.